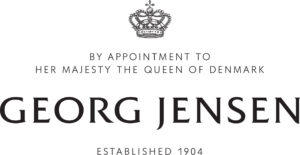 The philosophy of our namesake silversmith, Georg Jensen, is to create innovative designs that are both beautiful and functional. Georg Jensen grew up close to forest and lakes just north of Copenhagen. Nature was his core source of inspiration. Symbols of the natural world weave a common thread throughout his designs: fruits, blossoms, leaves and organic shapes.
His other artistic skills combined with his continuous ability to identify and support design talent was the foundation upon which he founded Georg Jensen in Copenhagen in 1904.
From the moment he opened his silversmith in 1904, Georg Jensen set a tone for his company that would chart its course for decades to come. It's innovative spirit, impeccable craftsmanship and Scandinavian design sensibility would become its hallmarks.